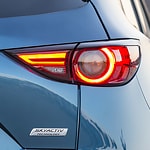 The all-new Mazda CX-5 has been unveiled for the new year, and it has created a stir in a sense. This particular automobile falls under the crossover category, and it brings many interesting tangibles to the table. Consumers can expect off-road traction, precise steering and a well-polished powertrain. The exterior of this vehicle just so happens to be aesthetically pleasing.
The new Mazda CX-5 is gifted in the tech department. First and foremost, Skyactiv technologies have been introduced to expand the vehicle's fuel efficiency. Radars and sensors are heavily used to prevent road accidents. This includes Lane Departure Warning, Blind Spot Monitoring and Rear Cross-Traffic Alert. On the other hand, seamless technologies are instituted for better enjoyment. You and your passengers will be listening to music that's played through the crossover's 10-speaker Bose system.
Want more information? Hit us up at our dealership to get a better perspective for what this vehicle can do.