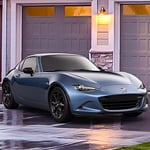 The Mazda MX-5 Miata is a popular roadster that gets an estimated 35 mpg on the highway. Many car enthusiasts like this roadster because of its sleek and sharp design features.
The exterior design features a bullet nose that cuts down on wind resistance and a paint job that comes in seven colors, including Soul Red Crystal Metallic and Arctic White. You don't need to slip behind the wheel to see the heritage taillights that have a rounded design to ensure that other drivers in Urbandale see you come to a stop. The MX-5 also has angled daytime running lights to help others see you as you drive around in this low-profile roadster.
Stop by Ramsey Mazda to see the top design elements in person or to take a test drive of the latest MX-5 Miata from Mazda.